GSEPS Enhancements
Effective July 1, 2022
Exciting enhancements were added to the Georgia State Employees' Pension and Savings Plan (GSEPS)!
During the 2022 Legislative Session, the Georgia General Assembly approved a significant increase in the state employee 401(k) employer match, with an enhanced benefit that increases with your years of service.
Contributing at least 5% into your PSR 401(k) is more valuable than ever! Make sure you're saving at least 5% to take advantage of the increased employer match. Don't leave free money on the table!
Effective July 1, 2022:
Your state employer will match your contribution dollar per dollar, up to 5% of pay. Members saving 5% or more receive a full 5% match. This is a 2% increase from the previous 3% match.
GSEPS members with at least six years of service, and who are contributing at least 5%, will get an additional half percent Employer match for every full year of service in excess of five years, up to a maximum match of 9%.
Employer matching funds are subject to the 401(k) vesting schedule, which is 20% vesting per year until fully vested at five years of continuous GSEPS service.
The following chart shows the employer contribution for employees saving at least 5%: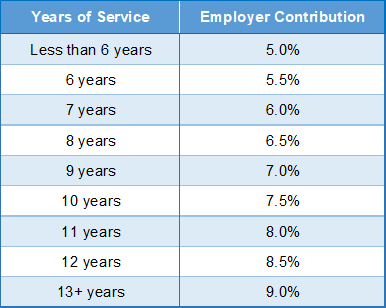 To view your Creditable Service, please log in to your ERSGA account using the Log In button on the top of any page on this website.
Looking for ways to increase your Creditable Service? The ERS Handbook has helpful information. See Section 5 for information on Creditable Service, like buying back your previous ERS or Teachers Retirement System (TRS) service, and Section 17 for Returning to State Employment.
Increasing your Creditable Service could result in increased Employer Match contributions to your 401(k).
For more information about the GSEPS plan, please watch our short, helpful videos on the GSEPS page.