About
The Employees' Retirement System of Georgia (ERSGA) administers five separate and distinct cost-sharing defined benefit pension plans for employer agencies across the State of Georgia. In addition, ERSGA oversees two life insurance plans and three defined contribution plans, including the Peach State Reserves (PSR) 401(k) and 457 plans. The agency also serves as the Social Security Administrator for all political subdivisions of the state.
Mission
Our Mission is to be the guardian of the State of Georgia's retirement plans and promote a dignified retirement for the members, retirees, and their beneficiaries.
Vision
Our Vision is to demonstrate an unwavering commitment to delivering accurate and timely retirement benefits utilizing a knowledgeable staff and state-of-the-art technology to best serve the retirement needs of current and future members.
Our Core Values are:
Integrity
Customer Service
Operational Excellence
Continuous Improvement and Innovation
Jim Potvin
Executive Director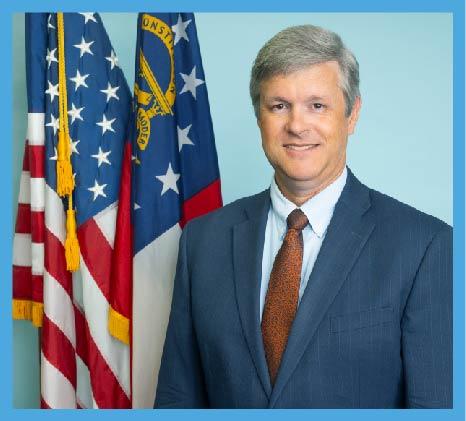 Jim Potvin is the Executive Director for the Employees' Retirement System of Georgia. Jim has served ERSGA since 2009, and was appointed to the position of Executive Director in 2012. He earned a BA in Mathematical Economics and Managerial Studies from Rice University and an MS from Georgia State University. Jim brings nearly 30 years of experience in retirement plan administration and consulting to the position.
The Georgia General Assembly passed Senate Bill 74 in the 2023 Legislative Session. The bill was signed into law on May 1, 2023.
SB 74 requires state agencies to assign designees to receive service of process for civil actions brought against the state and publish designee information.
ERSGA Designees
Office address:
Two Northside 75
Suite 300
Atlanta, GA 30318
Designee Contacts:
Michelle Heinecke
Executive Assistant