Understanding Your ERS Annual Statement
Your ERS Personal Statement of Retirement Benefits has a new look!
The annual statement has been redesigned to be:
Colorful and visually appealing
Simplified and easy to understand
A valuable resource to provide an at-a-glance retirement snapshot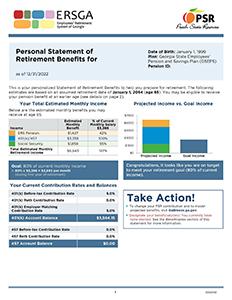 Your annual statement will be available online at the ERSGA website. Members with a PSR balance can also access their statement at GaBreeze.
GaBreeze Go Green initiative: Members who selected electronic delivery preference on GaBreeze will not receive paper statements through USPS. For those without an electronic delivery preference, statements are mailed in early March.
This annual statement combines:
ERS pension benefits
Peach State Reserves (PSR) balances (if applicable)
If members have a PSR balance, a Social Security estimate will be factored into the summary.
Viewing your information online
Review your information and make sure it is all correct, including beneficiaries.
Viewing your statement online
GaBreeze: Go to the Message Center Secure Mailbox tab.
ERSGA Website: Log in to your account using the Log In button at the top of any page. Click Personal Correspondence to see your statement.